Football: Former supper eagles' defender, sodje blasts politicians on woes of local league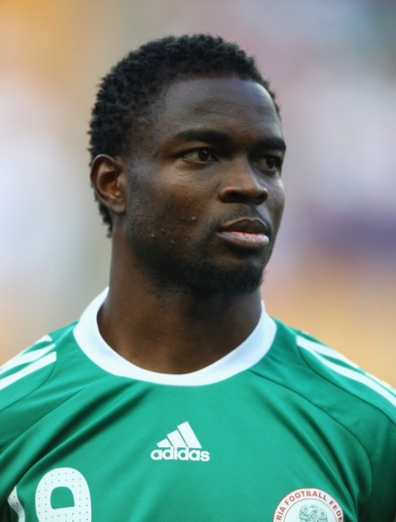 By Peters Monday, Abuja
Nigerian political leaders in corridors of power have been blamed for shamelessly patronising foreign football leagues at the detriment of the local football leagues.
Sam Sodje, who was a former football international and Super Eagles defender made the outbursts following the dwindling of local football leagues in the country.
The former defender, expressed disappointment at the rate Nigerian governors and other government officials shamelessly and openly promote fan clubs of foreign football clubs, describing it as a gross disservice to the country football growth and development.
Sodje, who played for several international leagues for over 15 years mainly English clubs, stated that it was hard to see any Spanish, German, English or any nationality, their government and football associations openly supporting or promoting a football club of another country.
According to a statement signed by the former Tottenham Hotspur FC player, Sam Sodje which was made available to newsmen on Wednesday, maintained that if such generous love and support were extended to local football clubs, football lovers in the country would follow suit.
He, however, emphasised on benefits that accompany such patriotic gesture of public office holders queueing behind their local league rather that amorously supporting foreign leagues.

"It has now become a thing of fashion and social prestige for our states governors and government officials to identify themselves as official members of the various supporters clubs of the different football clubs across the world, specially clubs in the English Premier League, Spanish La Liga and the Italian Seria A.

"From the start, I want to make it clear that our government officials have the Constitutional right to be associated with any supporters' clubs of their choice as this right cannot be taken away from them in any disguise.

"However, I want to, herein, point out the positive developmental effects that regular government officials, such as governors, ministers, NFF etc,'s visits to our stadia on match days will have on the promotion of our football league and its development effects in the country.

"It is my clear belief that there will be a remarkable improvement in the number of supporters coming into our stadiums where government officials are able to make it a point of duty to come to the stadium to watch our league games on match days as they currently do during match days in other parts of the world.
"Supporters will constantly be looking forward to seeing their government officials at the stadiums during match days, just as they look forward to seeing the various managers and players of the foreign clubs which they now spend our hard foreign currencies watching in these other countries on a weekly basis.

"The other social and economic benefits of this suggestions cannot be overemphasized, as such match days' visit of government officials will enable policy makers to see and experience, first-hand, the state of the various football clubs in terms of infrastructure development requirements for the stadiums and other essential needs of the stadiums and the people running these football clubs.

"Furthermore, visiting the stadiums by government officials on match days will afford these government officials the very good opportunity and chance of interacting with the masses thus, providing the opportunity of developing inter personal relationship between government and the people thereby reducing tension between the leaders and the masses, especially reducing youths restiveness and creating community cohesion for peaceful living within the different communities.
"The benefits of this line of action, if taken by government officials, shall be mutual. Just something for every sports-loving government officials to think about," he added.