Gunmen kill 60-year-old woman after N1m ransom paid in Burutu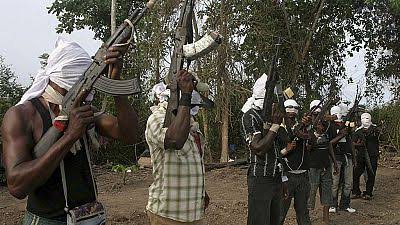 By Miracle Esegha
Tension is heightened in Tamigbe Town in Burutu Local Government Area of Delta State as suspected gunmen killed an abducted 60-year-old woman simply identified as Ebikabo-ere Oyas after collecting N1m ransom from the family.
Congress learnt that the deceased woman was abducted on Wednesday night at about 11pm by suspected gunmen in the community.
The source narrated that the gunmen violently attacked the deceased, abducted her, after looting her of huge amount of money.
The statement said the abductors later demanded one million naira (N1m) ransom which the family of the victim paid but later discovered that she is dead.
She was not seen after her abduction on Wednesday till Sunday when her lifeless body was recovered.
The gunmen reportedly shot her skull to pieces and dumped her in her pool of blood to death.
A community source said Ebikabo-ere's corpse was dumped between Beautiful Gate and Foutorugbene Road a nearby place to her home town, Tamigbe.
The source explained that the family of the victim had paid 1 million naira as ransom before finding her lifeless body.
However, the sad incident had thrown residents, family, friends, and business associates into mourning.
The statement reads, "Too bad after collecting N1,000,000 ransom from the family, they still went ahead to killed the woman. God of vengeance will do His best."
According to the source, Ebikabo-ere, was a businesswoman, having the largest provision store in the community, a mother of four, and wife to Mr Oyas Officer.
Meantime, the family members who were grieving, were not willing to talk to newsmen on the ugly incident.
Source: Vanguard