Inikorogha community has been terrorised by suspected youths -Amakosowei Pawuru
Inikorogha community has been terrorised by suspected youths -Amakosowei Pawuru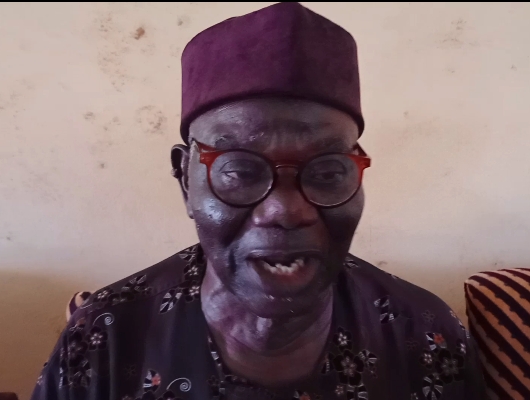 By Sola Omoniyi, Lagos
Following the recent deployment of security to Inikorogha community after series of complaints by indigenes of the community on the security threats.
The ama-kosowei-elect of the community, Elder Jacob Pawuru has confirmed that suspected ex-militant leader and some youths have been terrorising Inikorogha community for over a long period of time before the deployment of security in the community.
The eldest man, Pawuru while speaking with newsmen during an interview in the community said the rampaging youths stopped elders from participating in the community affairs for a long period now.
Pawuru stated that the community had been in uproar as youths who ruled over the affairs of the community intimidate, humiliate and harass others who are against them, adding that such characters in the community are no long welcomed.
He maintained that the community can't continue to tolerate such dissidents, hence the meeting of the entire community was called on April 29.
The Ama-kosowei explained that the meeting of indigenes who came from far and wide was not political but was a collective gathering to chart a new beginning for the community with the return of normalcy.
The statement reads, "My name is elder Jacob Pawuru. I am the Ama-kosowei-elect. I thank God who make today possible. We have now united, discussing as brothers and sisters but it was not so before the deployment of security in the community.
"My great grandfather Pawuru is the founder of Inikorogha community, am the only great grand son remaining. Am currently the eldest in the community. I was made the Ama-kosowei-elect.
"Our former Amakosowei had died, he has not been buried. I know after the burial the proper installation will be done but now am the Ama-kosowei-elect.
"There has been uproar in Inikorogha community, elders have been deprived of their original place in the community.
"The community has been control by an ex-militant and some youths.
"No body can talk to them while they continue to determine the affairs of the community.
"We can't continue like that again, hence we are meeting today to discuss the way forward.
"It is correct to admit that some youths have being terrorising the community. Things have not been cordial in the community over some years now.
"We don't want this characters in the community again, we need unity and love.
"This is a critical and crucial meeting as we install the Ama-kosowei, the community acting administration. It is not a political gathering. APC and PDP members attended the meeting in the community.
"I want our youths to cooperate with the elders to move the community forward.
"I also thank the governor of Edo state, Godwin Obaseki for helping to restore peace and unity in the community.
"I want Edo government to equally give us good roads, and considered our youths for good appointments and empowerment. So as to restore total peace and mutual understanding among indigenes of the community", he added.