Osimhen returns to his Primary School in Lagos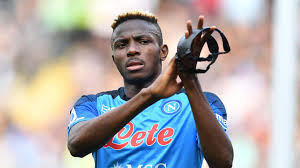 By Sola Omoniyi, Lagos
Napoli forward, Victor Osimhen is the latest Nigerian footballer to pay a visit to his home community as he spends the off-season in Lagos.
Osimhen who lived in Olusosun, a small neighborhood near Oregun attended Olusosun Primary School in the Ikeja area of the state.
The striker went to his former classroom, saw his old teacher, and took pictures with the present students of the school.
In some photos shared on his Instagram account, the Nigerian international visited his primary school in the Olusosun community in Oregun and the caption reads:
''Oregun!!! Thank You For The Warm Welcome, I sincerely Appreciate All The Love and Support!